Visor información marina base IDEO
El Visor de información marina muestra información de la naturaleza del fondo, batimetría, límites de reservas, información ambiental, caladeros de pesca, arrecifes artificiales y límites administrativos, (a título informativo y sin validez legal).
Simple
Date (

Revision

)

2020-06-22
Presentation form

Digital map
Credit

Todos los derechos de Propiedad Intelectual de la Información corresponden al IEO, conforme en lo dispusto en la Ley de Propiedad Intelectual 23/2006, 7 de Julio aprobada por real Decreto Legislativo 1/1996, de 12 de Abril.

Se citará al Instituto Español de Oceanografía en la bibliografía de todos aquellos documentos, páginas webs y medios digitales en los que se incluya todo o parte de la información que aquí aparece.
Status

Under development
Maintenance and update frequency

As needed
Keywords (

Place

)
Use limitation

El IEO, así como otros organismos implicados en la toma de datos, posee todos los derechos de la propiedad intelectual sobre la información distribuida. Ver "Licencia de Uso" del IEO en el Documento "Política de Datos del IEO". Para el resto de condiciones es aplicable la licencia pública "Creative Commons Atribución-NoComercial-CompartirIgual 4.0 Internacional (CC BY-NC-SA 4.0)": https://creativecommons.org/licenses/by/4.0/deed.es
Metadata language

Spanish; Castilian
Topic category

Geoscientific information

Oceans

Environment
Reference system identifier

WGS84
Distribution format
Protocol

WWW:DOWNLOAD-1.0-http--download
Description

Map in PDF format
Protocol

OGC:WMC-1.1.0-http-get-capabilities
Name

Online Web Map Context file
Description
OnLine resource
OnLine resource

Servicio WMS del Visor Base IEO  

Servicio WMS con la información disponible en el Visor Base del Instituto Español de Oceanografía (IEO)
gmd:MD_Metadata
File identifier

68fa9913-1ff7-41b1-9899-8977f00c1992  

XML
Metadata language

Spanish; Castilian
Character set

UTF8
Hierarchy level

Dataset
Date stamp

2021-03-24T10:16:59
Metadata standard name

ISO 19115:2003/19139
Metadata standard version

1.0
Overviews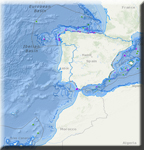 Provided by

68fa9913-1ff7-41b1-9899-8977f00c1992
  Access to the portal
Read here the full details and access to the data.
Associated resources
Not available